Big improvements have come to Monograph based on feedback from architecture firm leaders like you.
Streamline Your Budgeting in Project Planner
Invoice Consultant Fees by Phase
Track Consultant Fees by Phase from Planned to Paid
See highlights and how-to guides below.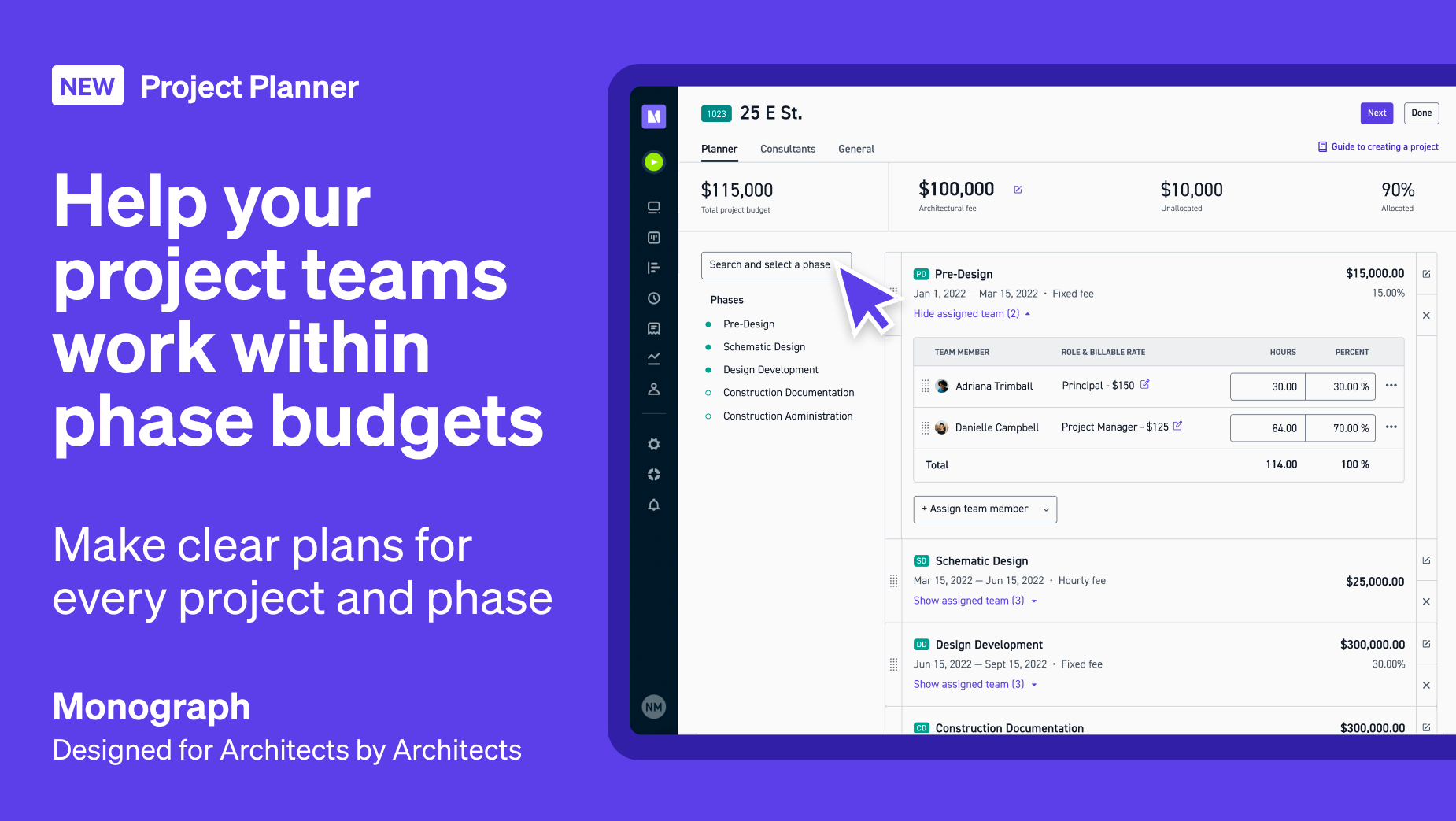 Budget Faster in Project Planner
Architecture projects are complex. You need to manage budgets efficiently, accurately and collaboratively.
When you centralize plans for every project and phase, you help your teams reduce the risk of overspending budgets.
In the new Project Planner, your real-time planning process will become more intuitive and accurate.
Plan and adjust projects efficiently with easier tools for allocating budgets
See a clear summary of your planned fees, phases & roles
Add consultants by phase so you can invoice more accurately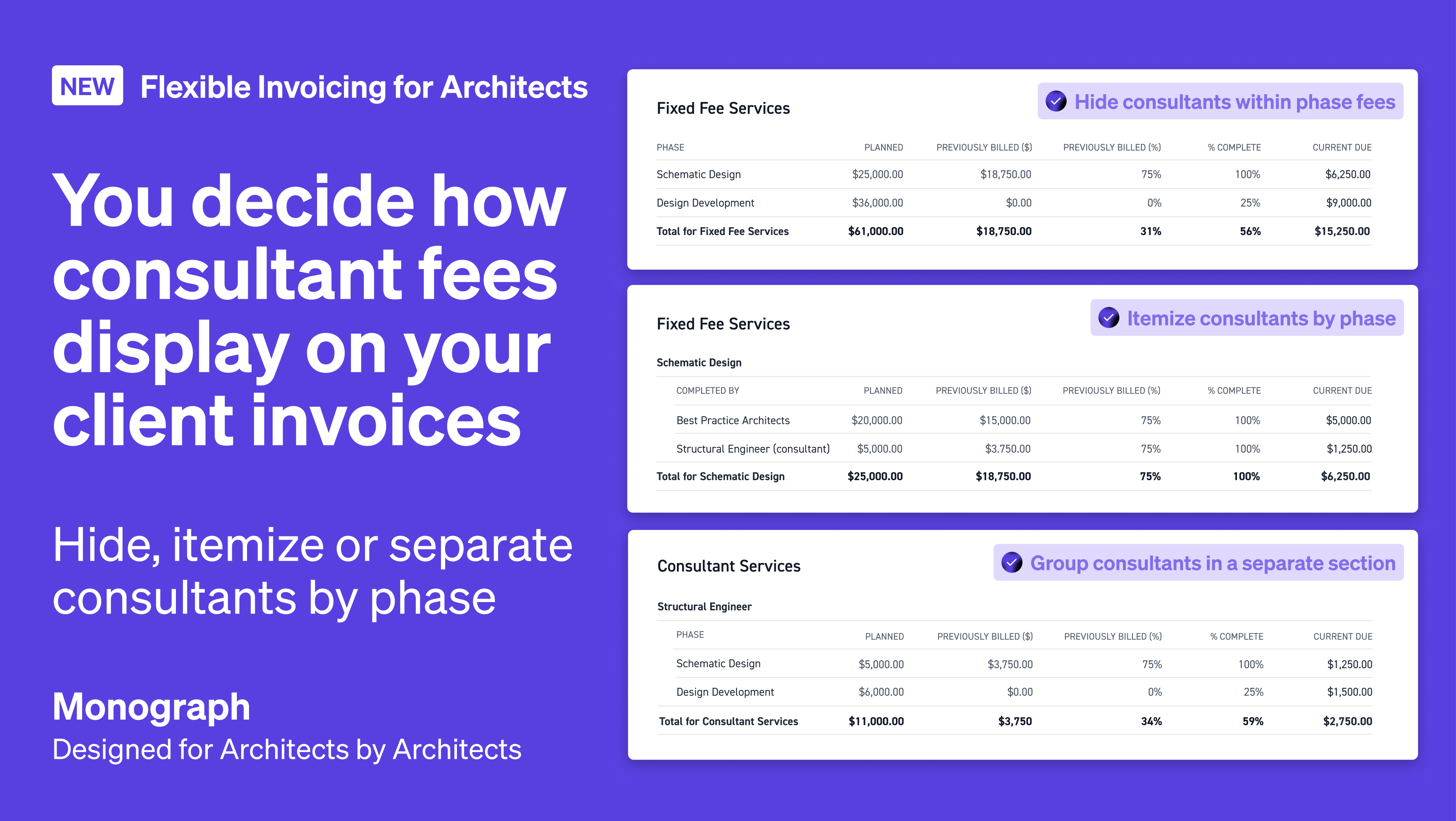 Invoice Your Way for Consultant Fees by Phase
Some clients want simplicity. Other clients need full transparency.
With Monograph, you get flexibility.
Reduce your risk of client disputes, write-offs and late payments by sending invoices at the level of detail your clients expect.
With this new update, you control the visibility your clients get into your consultant fees whenever you invoice.
Hide your consultant fees within your total phase fees
Itemize your consultant fees by phase
Group your consultant fees in a separate section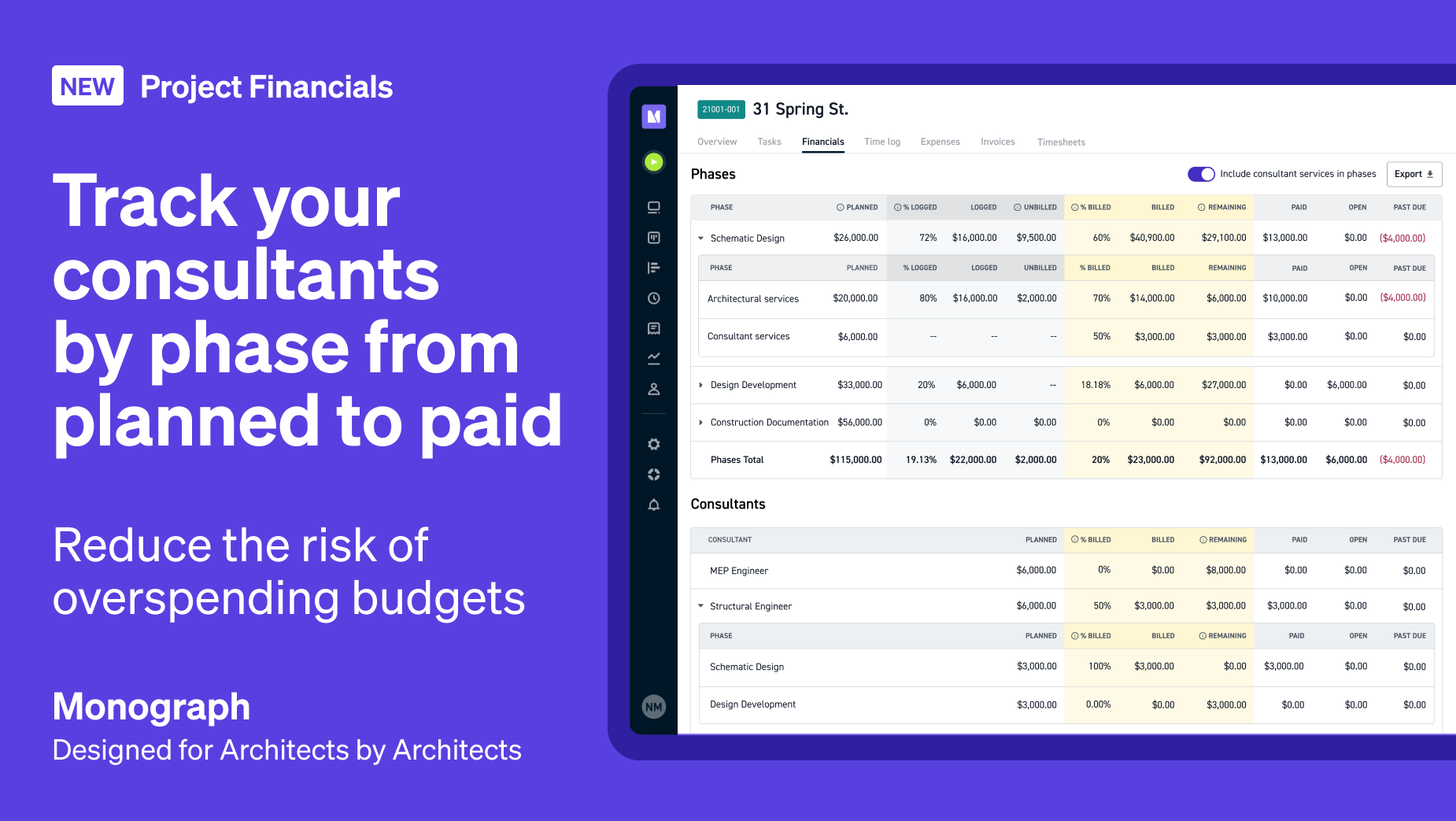 Track Consultant Fees by Phase from Planned to Paid
Client budgets are limited. Your team needs to balance happy clients and healthy projects.
In Project Financials, your project managers can track phase fees in more detail, including consultant fees, so you can improve delegation and reduce the risk of your teams overspending budgets.
Visualize all phase fees from planned, logged, invoiced, paid and past due
Include the sum of your consultant fees within your total phase fees
Track expenses and other items across logged, invoiced and paid
Plus, now you have even more tools for tracking and growing your firm in 2023:
Save time with new Assign role to all phases button in Project Planner
Export your Project Financials tab to share with clients
Export all Invoices to CSV to analyze your data in more detail
See completed phases in your Project Planner
Compare the payment type for every paid Invoice
See service fees for invoices paid via Monograph Payments
Filter by client in your Projects Overview